The original idea: A healthy pizza for everyone
Lizza Low Carb Pizza: Conscious nutrition made delicious
We love good food and believe that a balanced and conscious diet can also taste great. Our Lizza low carb flax seed dough is gluten free, vegan, additive free and 100% organic. We simply couldn't find such products in grocery stores so we started making them ourselves.
Lizza offers a real alternative. Our dough is made from high-quality raw materials in harmony with an ever-increasing nutritional awareness. Through the use of golden flax seed, coconut flour or psyllium husk, our products are high-fiber, high-protein, as well as rich in omega-3 fatty acids and overall very low in carbs.
Public awareness for a healthy diet is rapidly growing. After countless discussions with customers, dealers, producers, raw material suppliers, food technologists and industry experts, we became aware that something was still missing from the market. With our Lizza low carb products, we directly address customers with a high level of nutritional and quality awareness: "pleasure without regret" – in the best organic quality possible.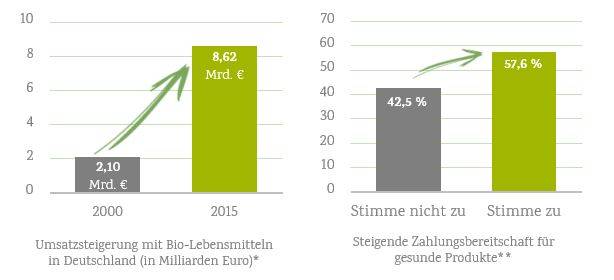 * Organic Market Working Group © Statista 2016 ** KPMG, ifH Cologne © Statista 2015